After letting it sink if for a week, I thought it was a good time to share our experiences in Sonoma & Napa. So much happened in such a short amount of time, that I needed a week to really think about it all.
We had been speaking with our friend Chris over at Bodkin Wines for a couple months now about coming out during harvest, so we knew we needed to do it. Neither of us had seen a harvest before and going to see Chris, his operation and harvest all at the same time was something we couldn't pass up.
Flying into San Francisco at 820 am is a daunting task, but not when the weekend is full of amazing wine activities. We took the 1 highway up to the Golden Gate Bridge, which if you haven't done before is totally worth the "detour". I say that because it looks like a detour on the map, but the time is actually the same. The 1 is the highway that runs along the coast, and driving next to the beach on the highway is an amazing experience. Jill and I had done it a few times in our LA stint, and it was just as amazing there.
Driving over the Golden Gate Bridge was well, uhhh… a bridge. So I wasn't as thrilled about it as I wanted to be. I guess I should have known though, it's a bridge. It was cool to see the view and be able to have actually been on it though. It was also cool there wasn't a crazy toll like they have on the George Washington bridge going into Manhattan, New York, but I digress.
I loved seeing the fog rolling all over the highways and roads. We could barely see driving, but it really puts it in perspective and shows you how the grapes really do get the exact right climate they need to be successful in these regions.
After a short stop at our warehouse in Sonoma, to meet the owners and see the space, we shot over to Sebastpool to the Taft Winery, where Chris and his Bodkin Wines are made. He welcomed us with the best welcome of all: Sabering some sparkling wine!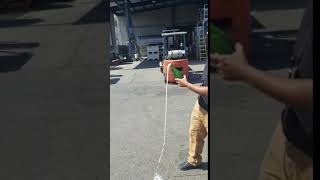 We spent the day really learning from a very experienced and highly skilled individual how to make wine. Obviously reading and studying these things is great, but nothing takes the place of helping and seeing the action up close. It was a long, fun day, and drinking wine out of pretty much every tank really made for a great experience. We will do a more in depth producer profile over Chris at a later date. You won't want to miss that! The next morning was really where it was at though!
We met Chris at a Starbucks in Healdsburg and headed out to the vineyard he was buying fruit from in the Dry Creek Valley AVA. Sauvignon Blanc. Sauvignon Blanc was the focus and was it every glorious. From just before 7 am until just after 12 pm, we helped Chris and the team at the vineyard harvest. Help is a loose term, because I felt we were in the way the whole day. They. Were. All. MACHINES. Running up and down the rows with buckets of grapes, getting them into the tractor bins as quickly as possible and doing it again. Lather, rinse, repeat for over 6 hours (they were there before we got there!). Then they went off to another job. This was late into harvest as well, so these people had been working like this for WEEKS!
It was fun, intense and overall the energy was through the roof. It is such an amazing thing to witness. We even help pick some grapes, which was hilarious to see the sloth like tempo we took compared to the speed of the vineyard workers. We spent most of the day helping pull leaves out of the bins and trying to stay out the way. Heck I was tired from being out there and I didn't feel like I did anything.
These wine regions were full of people trying to witness the event that is harvest and it made so much sense why after being a part of it. We couldn't thank Chris enough for letting us come help out and see the magic.Witnessing how hard these people work to put wine on our tables makes me appreciate it even more. I hope even a little glimpse into it does the same for you as well.
He went off back to the winery to continue his wine making journey and we went through the mountains to Napa. I forgot how amazing driving by all of the iconic Napa wineries was. It will never get old. The valley was buzzing due to harvest just as Sonoma was, and it was PACKED with people. We met our friend Aaron, the proprietor of Flint Knoll wines, as well as the representative for Riverain, amongst other things; and off we went to another great day with Aaron in Napa!Our night with Aaron, Meredith and Andy will be kept under wraps, but let's just say we had an amazing time, with amazing people and some great food and wine as well!Any trip to Napa, especially when it consists of visits with friends, and discussing life and business, is as great as it gets.Going to see and be a part of things like this make me excited to share my experiences with my family. Hopefully sooner than later my kid and wife can join me on a trip to harvest and see exactly what takes place.I thank God every day for these opportunities.

Until next time

Cheers,
Keith